News story from West Buckland School
West Buckland's Results Reflect Hard Work, Engagement with Online Learning and Integrity of Assessment Process
West Buckland School's A-level results reflect high levels of engagement with online learning as well as the resilience, hard work and integrity of both students and staff.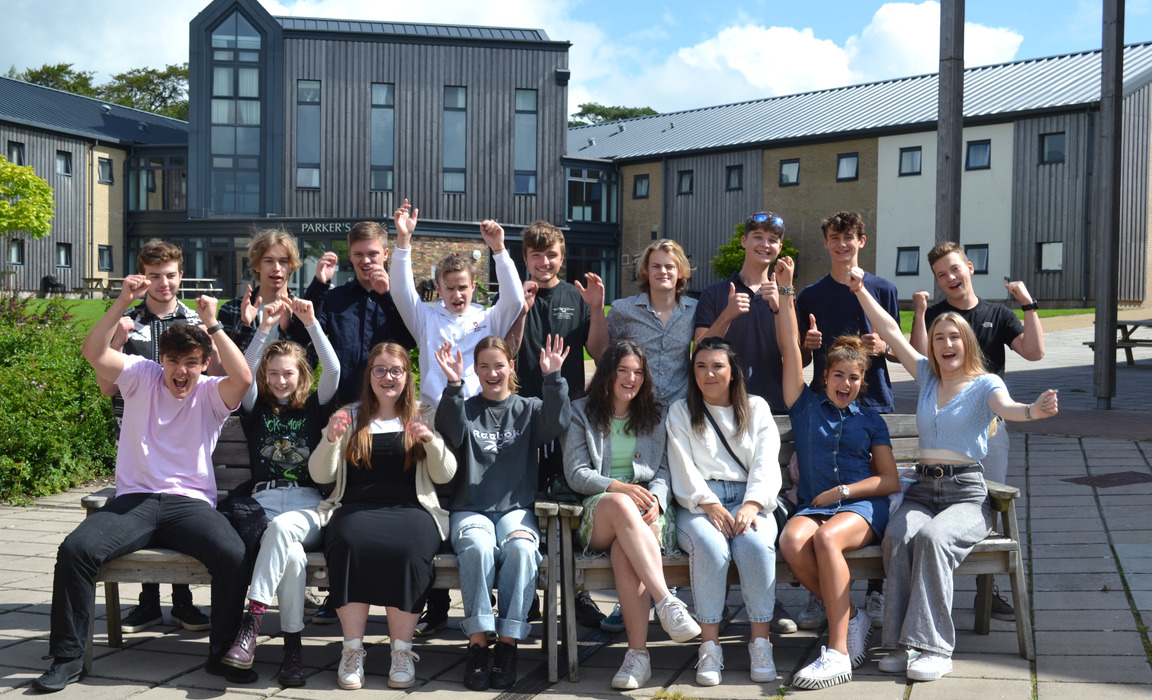 10th August 2021 — West Buckland A-level students have once again produced an outstanding set of results in their exams, which this year saw the introduction of the TAG (Teacher Assessed Grades) in response to the COVID pandemic.
In a year where comparisons have little meaning, the school is celebrating a number of outstanding individual performances. Ben Lee, Phoebe Banbury, Elena Espinosa-Cabrera, Charlotte Turner and Rebecca Ellam all gained four A*s in a wide variety of subjects and will now be taking up places at their first choice of university. Ben's A* grades were in Music, French, Spanish and EPQ (Extended Project Qualification) and he will read Music at Durham University; Phoebe's are in Chemistry, Biology, Geography and EPQ and she will be reading Geography, also at Durham. Charlotte Turner gained her top grades in Spanish, History, Biology and EPQ and will be going to King's College, London to ready English Law and Spanish Law, whilst Elena will study Medicine at Edinburgh University after her top grades in Chemistry, Biology, French and EPQ.
In addition, there were some really pleasing results in other areas and the strength of the BTEC and CTEC exams in helping students get into their chosen degree courses, has been proven. Daisy Gatehouse (BTEC in Applied Science) and James Tyson (CTEC in Sport and Physical Activity) can now look forward to taking up their places at King's College, London and Cardiff Metropolitan University, respectively.
Whilst many students will be taking up their places at university, a significant number are now exploring alternative options. One student will be undertaking a degree apprenticeship with an Architects firm for a year, whilst another student is heading straight into banking.
Headmaster, Mr Phillip Stapleton, is confident that the results are a true representation of the abilities of this cohort of students and the hard work of the staff over a very difficult year. "The process adopted at West Buckland was robust and passed all of Ofqual and the exam board requirements. Pupils have been awarded grades based on a full programme of home learning, continued engagement and diligence throughout the course, and a series of assessments completed under examination conditions. Teachers worked extremely hard to ensure courses had been fully taught and there was sufficient, robust evidence; we are all delighted that the students have done so well. These excellent results reflect the initiatives in curriculum changes, individual guidance, use of technology in teaching and learning, and the high level of engagement of staff and students throughout."
"I am delighted for those whose efforts delivered great results. I am also grateful to staff for their energy and commitment, and I feel incredibly privileged to lead such a wonderful school."
"I am also in admiration of our international students, some of whom undertook online learning eight hours behind UK time for the Summer of 2020 and others who stayed in the UK to continue their studies at school, many of whom went for a whole year without going home."
West Buckland School Sixth Form boarding continues to be highly oversubscribed every year and this is no co-incidence. Our Sixth Form Diploma, which takes a holistic approach to developing young people, together outstanding teaching and facilities, mean our students can carry out their studies in a first-class environment and with the support that will see them achieving their full potential."